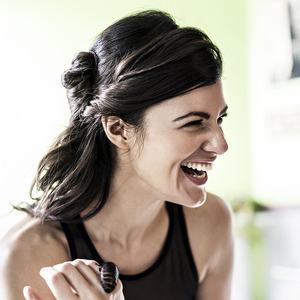 Summer Rayne Oaks
Special guest
Summer Rayne Oakes was reclaiming mine sites, researching sewage sludge, and restoring forestlands when she was struck with the idea that style—and how we live our life—would be a far more effective means to connect people to the natural world. Graduating Cornell University cum laude with degrees in Environmental Science and Entomology, Oakes began to bridge her interest in ecological systems to industries that affect our everyday life—from what we wear to what we eat.
This journey has led her to two decades of experience infusing sustainable-thinking and practices into the heart of the fashion, beauty and food industries. Most recently Oakes has been focused on sustainable food, agricultural, and horticultural systems and our connection to what we grow and what we eat. She has worked closely on the launch of numerous companies including Good Eggs, a farmers market meets online grocer and Foodstand, a food-savvy community app that helps people eat better. In 2014, she founded SUGARDETOX.ME to help people come to terms with their sugar tooth. She has released her first cookbook and guide based on the website in March 2017 with Sterling Publishing. And in the same month, she launched the blog and YouTube Channel, Homestead Brooklyn and "Plant One On Me" respectively, to help people become more attuned to nature in the city through the simple things: a potted plant, a farmers market apple, or even a walk through the botanical gardens. Shortly thereafter, she released the Houseplant Masterclass, the first online audiovisual course on houseplant cultivation, care and maitenance. She currently is working on her fourth book, which is available for pre-order called How to Make a Plant Love You: Cultivate Green Space in Your Home and Heart.
Though the plant world has been a core focal point in recent years, Oakes is most known for her work in the world of fashion. She is recognized as the first "eco-model," a term bestowed originally by Grist to describe her values-based modeling. Over the past ten years, she has co-founded Source4Style (now called Le Souk), an award-winning, venture-backed marketplace that connects thousands of designers to sustainable material suppliers around the world; authored the best-selling book Style, Naturally; served as a correspondent on Discovery Networks; designed environmentally-preferable lines with Payless, Portico and Modo eyewear; and served as the muse for Toyota's Prius C (they even went so far as to name a paint color in her honor).
She and her work have been featured in a range of media outlets worldwide including: CNN, Fox News, The New York Times, The Guardian, Vogue, Vanity Fair, L'Officiel, INC, Forbes, and many others. Outside magazine called her a "Top Environmental Activist," Amica listed her as one of the "Top 20 Trendsetters under 40," and CNBC named her one of their "10 Best Green Entrepreneurs." In 2013, she was one of eleven women featured in the iconic Pirelli Calendar shot by photographer Steve McCurry of Afghan Girl fame.
Oakes serves on the board of the Mezimbite Forest Centre and works closely with organizations such as Rainforest Action Network and Gaia Amazonas. You may often see her in Brooklyn walking her foster hen, Kippee or flexing her green thumb in her copious indoor plant gardens.
Summer Rayne Oaks has been a guest on 1 episode.
July 8th, 2019 | 51 mins 5 secs

My guest is Summer Rayne Oakes. Her new book is "How to Make a Plant Love You: Cultivate Green Space in Your Home and Heart." She's an urban houseplant expert and environmental scientist, is the icon of wellness-minded millennials who want to bring nature indoors, according to a New York Times profile. Summer has managed to grow 1,000 houseplants in her Brooklyn apartment (and they're thriving!) Her secret? She approaches her relationships with plants as intentionally as if they were people.