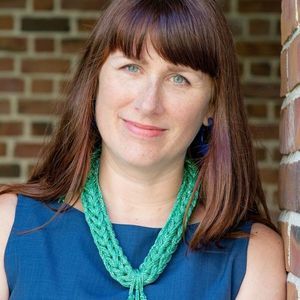 Molly Baskette
Special guest
Molly is the senior minister of First Church Berkeley UCC in Berkeley, CA, where nonagenarian Nobel laureates worship cheek-by-jowl with pink-haired trans activists and young multiracial adoptive families. On any given day at First Church, you might hear Bach or Sara Bareilles, people praying for climate justice or speaking in tongues. The ministry bug bit Molly at progressive Christian church camp when she was a nerdy teenager, and she has worked for God for a living ever since, in a wide variety of settings: Mexican orphanages; large, quiet suburban Anglo churches where the median age was 65; less-quiet urban multiracial churches where the median age was 9; and most recently, First Church Somerville, a radically renewing UCC that boasts its own Drag-Queen-in-Residence in Berkeley's doppelgånger, Somerville, Massachusetts. She takes the Bible seriously, but herself, not so much. She loves Jesus and really does believe he is "God with skin on," but is not above fighting with him in the back seat of the car, like you would any true sibling.
She writes books to fill gaps in the progressive Christian canon: so far, a book about church renewal (Real Good Church: How Our Church Came Back from the Dead and Yours Can Too), a manifesto for the vulnerability revolution and a blueprint for spiritual transformation (Standing Naked Before God: The Art of Public Confession), two grief workbooks for children (co-authored with Nechama Liss Levinson: Remembering My Pet and Remembering My Grandparent) and (co-authored with Ellen O'Donnell) the forthcoming Bless This Mess: A Modern Guide to Faith and Parenting in a Chaotic World, for parents who want to raise their kids with a different kind of Christian spirituality that is also grounded in good science. She is a cancer survivor and is now at work on a memoir of faith and survivorship.
A graduate of Dartmouth College and Yale Divinity School, she serves as a senior consultant for the Center for Progressive Renewal, with an affinity for church renewal, social media and spiritual formation for the new millennium, and teaches and coaches individuals and church teams via webinar and in the flesh. If you ask her to come do a keynote, she will probably say yes but will likely make you confess your sins to a roomful of friends and strangers (which you will, surprisingly, turn out to enjoy).
She lives in Alameda, California with her husband Peter, and kids Rafe and Carmen, where she plans to continue her high-powered side career in cooking from the garden, reading in the hammock, and training for the cuddling Olympics.
Molly Baskette has been a guest on 1 episode.
August 20th, 2019 | 55 mins 37 secs

My guests are Rev. Molly Baskette and Dr. Ellen O'Donnell. Their new book is "Bless This Mess: A Modern Guide to Faith and Parenting in a Chaotic World." When the two first met, they were both new mothers seeking parenting wisdom. They read a lot of books on the topic, but none of them contained practical suggestions that would help their families psychologically and spiritually while maintaining their progressive values: How do we teach the art of forgiving and serving others? How do we raise kids who are tolerant, curious, and honorable? And what about the sex talk? Taking matters into their own hands, Baskette and O'Donnell began creating actionable steps addressing these questions and more. This book is the fruit of their many conversations begun long ago during the daycare carpool, from angsty moments to hallelujahs.