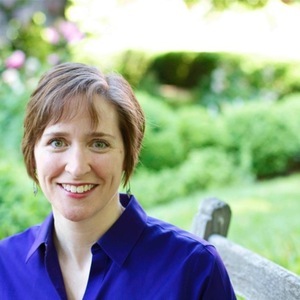 MaryAnn McKibben Dana
Special guest
The Rev. MaryAnn McKibben Dana is a writer, free-range pastor, speaker, and coach living in Virginia. She is a mother of three, an inveterate muffin-maker, a haphazard knitter, and an occasional marathoner.
Like many authors, MaryAnn writes the books that she herself longs to read. So as a recovering perfectionist who likes her backup plans to have backup plans, she penned God, Improv, and the Art of Living, about embracing improvisation as a spiritual and life practice. And as a twitchy workaholic seeking to find balance in a 24/7 world, she wrote 2012's Sabbath in the Suburbs, which turned out to be a Chalice Press bestseller for two years running and a "must read" by Ministry Matters. (Apparently other people are dealing with that stuff too?) She speaks to groups about these and other topics; here's her calendar of events.
Her writing has appeared in TIME.com, The Washington Post, Huffington Post, Religion Dispatches, Journal for Preachers, and the Christian Century, and in a monthly column for Presbyterians Today for three years. She was featured on PBS's Religion and Ethics Newsweekly for her work on Sabbath and was recognized by the Presbyterian Writers Guild with the 2015-2016 David Steele Distinguished Writer Award.
She is a sought-after speaker, preacher, conference leader and writer around issues of leadership, faith formation, technology, and congregational transformation. She served as co-chair for two years of NEXT Church, a movement within the Presbyterian Church (USA) that seeks to call forth vital ministry for our changing cultural context. MaryAnn is a graduate of Rice University in Houston, Texas and received her M.Div. from Columbia Theological Seminary in Decatur, Georgia.
In 2017 she began personal and professional coaching and running coaching. (Clients need not do both, although a few do.) Find out more here.
MaryAnn McKibben Dana has been a guest on 1 episode.
June 27th, 2018 | 42 mins 26 secs

My guest is MaryAnn McKibben Dana. Her newest book is "God, Improv and the Art of Living." In it she blends Scripture, psychology, theology, and pop culture in a wise, funny, down-to-earth guide to improv as a practice for life. Offering concrete spiritual wisdom in the form of seven improvi­sational principles, this book will help readers become more awake, creative, resilient, and ready to play--even (and perhaps especially) when life doesn't go according to plan.