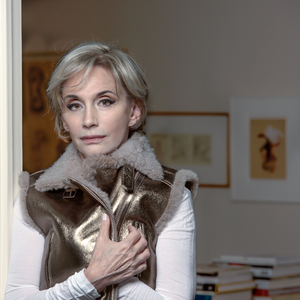 Michèle Gerber Klein
Special guest
Michèle Gerber Klein is a philanthropist, collector and author whose topics are fame, fashion and art. Her first book is a Portrait of An Unreasonable Man, a biography of the iconic and controversial designer Charles James, published by Rizzoli ex Libris
Born in Santa Fe, New Mexico, Michèle Gerber Klein lives and was raised in New York City. She attended the Lyçée Français and graduated from the Brearley School. After Bryn Mawr College where she earned a B.A. degree in English literature, Michèle returned to Manhattan to pursue careers in fashion and philanthropy: She is the founder of joan vass U.S.A., a manufacturer of popularly priced, elegant knit wear, and is now Vice President of the Liberman Foundation.
She has written about art, fashion and arts de vivre for a wide variety of publications including Quest; C; Night; Cottages and Gardens, where she was a contributing editor; New York Social Diary, which published her accounts of her trips to India, Peru and Turkey as well Patrick McMullan magazine for which she authored "Eyes on Fashion." She is a columnist for Mann Publications, a contributor to the Brooklyn Rail and her interview with Tina Barney , filmed by artist Anton Peresh, can be viewed on the BOMB web site. Her interviews with her artist friends for BOMB and The Brooklyn Rail have been translated into several languages, taught at Columbia, archived by the Getty and quoted by scholars here and abroad.
Michèle has served on the boards of the Dia Foundation for the Arts, the New Museum of Contemporary Art, The Cooper Hewitt Smithsonian National Design Museum, The Museum at FIT, The Alliance Française, New Arts Publications, Casita Maria, Chez Bushwick, the Brooklyn Rail, The New York Landmarks Preservation Foundation, and Fondatzione Bogliasco. She chairs the Whitney Museum of American Art's library committee and is a member of the Architecture and Design and the Photography Acquisition Committees at the Museum of Modern Art in Manhattan and the Photography Acquisition Committee at the The Whitney Museum of American Art.
A proactive fund raiser-she has chaired many benefits including BOMB magazine (in JP Morgan's library at the Morgan), New York City Opera, The Bronx Museum of the Arts, Cool Culture, and Chez Bushwick featuring Pharrell Williams and Jonah Bokaer, as well as Operation Smile in conjunction with Boucheron jewelers. In 2000 she chaired La Nuit des Etoiles, for the New York Alliance Francaise which honored French actress Catherine Deneuve at the restaurant Daniel with a French film star at every table.
Michele's party for the twenty-fifth reunion of her Brearley high school class was the catalyst for Elizabeth Fishel's book Reunion: The Girls We Used to Be, the Women We Became and Fishel's description of the gathering was reprinted by Vogue.
In 2011, Michèle was the recipient of the Mann Foundation's Woman of the Year award for her work in fashion and philanthropy.
Michèle Gerber Klein has been a guest on 1 episode.
April 17th, 2018 | 45 mins 6 secs

My guest is Michèle Gerber Klein. Michèle is a philanthropist, collector and author whose topics are fame, fashion and art. Her first book is Charles James: Portrait of An Unreasonable Man, a biography of the iconic and controversial designer Charles James, published by Rizzoli ex Libris.