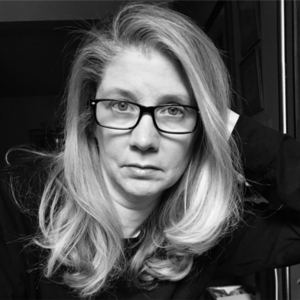 Laura Davis-Chanin
Special guest
Laura Davis-Chanin is a writer and lawyer. She is currently working on a novel and a series of short stories. She can be heard on the podcast Phi-Fic: Truth in Fiction on the philosophy site The Partially Examined Life and is working on a master s degree in philosophy at Edinburgh University. She is most thankful for her beautiful daughters, Zoe and Mara.
Laura Davis-Chanin has been a guest on 1 episode.
March 22nd, 2019 | 43 mins 48 secs

My guest is Laura Davis-Chanin. Her new book is "The Girl In The Back: A Female Drummer's Life with Bowie, Blondie and the '70s Rock Scene." Nineteen seventy-seven. New York City. Dark. Dangerous. Thrilling. Punk Rock. Blondie. David Bowie. Drinking. Drugs. Happening at the speed of light. Seventeen-year old Laura quaking within her skin while the bursting punk rock revolution explodes around her starts a band with her teenage friends called the Student Teachers. She's the drummer. They play legendary clubs CBGB and Max's Kansas City. They rehearse madly write songs and tour the East Coast, all between final exams at school. In comes Jimmy Destri from Blondie. He thinks the Student Teachers are terrific! And then he falls in love with Laura. He pulls her into the glamorous life of Blondie and introduces her to David Bowie.