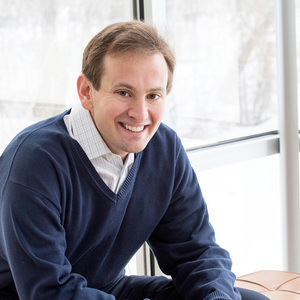 Evan Moffic
Special guest
Evan is the friend and teacher we all wish were ours as we struggle with today's big questions about how to live together in peace.
Evan uses his experience as a rabbi working with people of all ages who experience the highs and lows of life, combined with the most cutting edge research in positive psychology and neuroscience, to explore what practices help us feel a greater sense of satisfaction, meaning and purpose in our lives.
Author of three best-selling books, and a fourth set to release in early 2019, Evan is regularly featured as part of the Religion Panel on Fox and Friends, and his articles appear in Huffington Post. Evan speaks across the country to faith based groups and corporations wanting to improve strategies for understanding one another, facilitating increased productivity and harmony in the work place and in our social circles. He is a skilled retreat leader, "lunch and learn" speaker, and large group debate moderator. He is at home in sanctuaries, company board rooms and civic auditoriums.
Rabbi Evan Moffic is a graduate of Stanford University and was the youngest rabbi of a Reform Congregation in a major American city. He serves as the Senior Rabbi of Congregation Solel in suburban Chicago. His wife, Arielle, is also a rabbi and they are the proud parents of two young children.
Evan Moffic has been a guest on 1 episode.
March 11th, 2019 | 52 mins 4 secs

My guest is Rabbi Evan Moffic. His newest book is "First the Jews: Combating the World's Longest-Running Hate Campaign." News reports of and statistics about defaced synagogues and death threats against community centers are on the rise around the world. A rise in anti-Semitism from the right side of the political spectrum has been accompanied by a different kind of anti-Semitism from parts of the left revolving around the state of Israel.