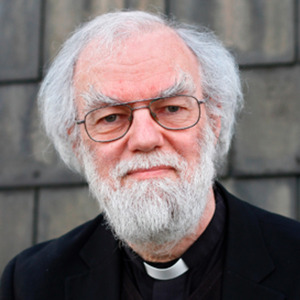 Rowan Williams
Special guest
Dr Williams was educated at Dynevor Secondary Grammar School in Swansea, he came up to Christ's College in 1968. He studied for his doctorate at Christ Church and Wadham College Oxford, working on the Russian Orthodox theologian Vladimir Lossky. His career began as a lecturer at Mirfield (1975-1977). He returned to Cambridge as Tutor and Director of Studies at Westcott House. After ordination in Ely Cathedral, and serving as Honorary Assistant Priest at St George's Chesterton, he was appointed to a University lectureship in Divinity. In 1984 he was elected a Fellow and Dean of Clare College. During his time at Clare he was arrested and fined for singing psalms as part of the CND protest at Lakenheath air-base. Then, still only 36, it was back to Oxford as Lady Margaret Professor of Divinity for six years, before becoming Bishop of Monmouth, and, from 2000, Archbishop of Wales. In 2002, he became the 104th Archbishop of Canterbury.
He was awarded the Oxford higher degree of Doctor of Divinity in 1989, and an honorary DCL degree in 2005; Cambridge followed in 2006 with an honorary DD. He holds honorary doctorates from considerably more than a dozen other universities, from Durham to K U Leuven, Toronto to Bonn. In 1990 he was elected a Fellow of the British Academy. He was elected as a Fellow of the Royal Society of Literature in 2003 and of the Learned Society of Wales in 2010. In 2013, he was made a life peer, becoming Lord Williams of Oystermouth, in the City and County of Swansea.
Dr Williams is a noted poet and translator of poetry, and, apart from Welsh, speaks or reads nine other languages. He learnt Russian in-order to read the works of Dostoevsky in the original. This led to a book; he has also published studies of Arius, Teresa of Avila, and Sergii Bulgakov, together with writings on a wide range of theological, historical and political themes.
Rowan Williams has been a guest on 1 episode.
March 9th, 2021 | 45 mins 42 secs

My guest is Rowan Williams. 'As we contemplate the coming months, not knowing when we can breathe again, it's worth thinking about how already the foundations have been laid for whatever new opportunities God has for us on the far side of this crisis.' Rowan Williams offers these words of wisdom and many more in his new book "Candles in the Dark." This powerful and timely book brings together the 26 weekly Christian meditations originally posted online from March to September 2020, during lockdown in the first wave of the Covid-19 pandemic, for the congregation of his local parish church.