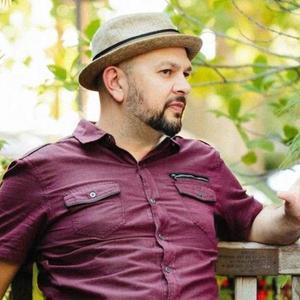 Dan White Jr.
Special guest
Dan White Jr. met his future wife Tonya at Mc Donald's in high school and it was puppy love at first site. They have been married 20 years, co-creating a full life together, and have produced two quirky humans in Daniel (14) and Ari (2).
Dan White Jr is a church planting strategist with the
V3 Movement, coaching cohorts through an 18-month missional training system. Dan has coached over 200 new innovative faith communities across the country.
He co-founded the Praxis Gathering, a yearly conference that equips practitioners in the hands on work of following Jesus deeper into our local places.
Dan co-planted Axiom in Syracuse, NY with five other families, moving into an under-resourced neighborhood with a compelling dream. Axiom has sought a way of being the church that centers on life-forming discipleship, boundary-crossing mission, tight-knit community, and locally-rooted presence.
Dan also co-founded a social good enterprise in downtown Syracuse that is a neighborhood coffeehouse (Salt City Coffee) and social justice mashup that cares for Refugees from Syria, the Congo, Iraq and Cuba.
Dan has written a couple books and regularly speaks around the country in larger gatherings and smaller more intimate retreats. Dan is a humorous story teller that finds a way to weave together robust theology with on-the-ground practicality.
Dan graduated with his B.A. in Counseling from Davis College and his M.A. in theology from Capital Seminary.
Dan White Jr. has been a guest on 1 episode.
September 17th, 2019 | 35 mins 28 secs

My guest is Dan White Jr. His new book is "Love over Fear: Facing Monsters, Befriending Enemies, and Healing Our Polarized World." Whether it's the news, social media, or well-intentioned friends, we're told daily to fear "others." We fear strangers, neighbors, the other side of the aisle, even those who parent differently. And when we're confronted with something that frightens us, our brain sees only two options: Attack or Avoid.

But either way, polarization intensifies. What if you could defy your own instincts and choose a third option--scandalous, disruptive, unthinkable LOVE?