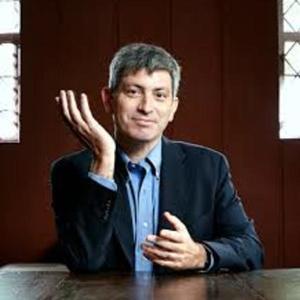 Carl Zimmer
Special guest
Carl Zimmer is the author of thirteen books about science. His newest book is She Has Her Mother's Laugh: The Power, Perversions, and Potential of Heredity. His column Matter appears each week in the New York Times.
Zimmer's writing has earned a number of awards, including the 2016 Stephen Jay Gould Prize, awarded by the Society for the Study of Evolution to recognize individuals whose sustained efforts have advanced public understanding of evolutionary science. In 2017, he won an Online Journalism Award for his series of articles in which he explored his genome. She Has Her Mother's Laugh won the 2019 National Academies Communication Award. It was also named a Notable Book of the Year by the New York Times Book Review and selected for Publisher's Weekly Best Ten Books of 2018 and the 2018 shortlist for Baillie-Gifford Prize for Nonfiction. The Guardian named it the best science book of 2018.
Zimmer created the podcast "What Is Life?" and is a familiar voice on other programs such as Radiolab. A professor adjunct at Yale University, he lives in Connecticut with his wife Grace and their children, Charlotte and Veronica. He is, to his knowledge, the only writer after whom a species of tapeworm has been named.
Carl Zimmer has been a guest on 1 episode.
October 4th, 2019 | 1 hr 1 min

My guest is Carl Zimmer. His newest book is "She Has Her Mother's Laugh: The Powers, Perversions, and Potential of Heredity." In it he presents a profoundly original perspective on what we pass along from generation to generation. Charles Darwin played a crucial part in turning heredity into a scientific question, and yet he failed spectacularly to answer it. The birth of genetics in the early 1900s seemed to do precisely that. Gradually, people translated their old notions about heredity into a language of genes. As the technology for studying genes became cheaper, millions of people ordered genetic tests to link themselves to missing parents, to distant ancestors, to ethnic identities...