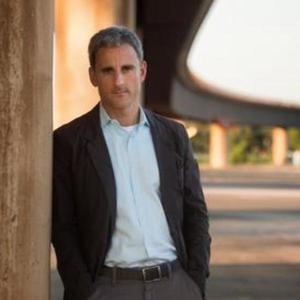 Ariel Sabar
Special guest
Ariel Sabar won the National Book Critics Circle Award for his debut book, My Father's Paradise: A Son's Search for his Jewish Past in Kurdish Iraq (2008). His second book, Heart of the City (2011), was called a "beguiling romp" (New York Times) and an "engaging, moving and lively read" (Toronto Star). His Kindle Single, The Outsider: The Life and Times of Roger Barker (2014), was a best-selling nonfiction short.
​
Ariel is also an award-winning journalist whose work has appeared in The New York Times, The Atlantic, Smithsonian Magazine, Harper's, The Washington Post, The Wall Street Journal, The Boston Globe, Mother Jones, Washingtonian Magazine, and This American Life. He got his start at LA Weekly, where he spent summers as a college intern, and later worked as a staff writer at the Providence Journal, Baltimore Sun, and Christian Science Monitor, where he covered the 2008 presidential campaigns. He has reported from Africa, Europe, Scandinavia, and the Middle East.
Ariel graduated magna cum laude from Brown University. He taught creative writing at The George Washington University and has lectured about his books and magazine stories at Johns Hopkins University, Georgetown University, the Royal Geographical Society of London, the University of Göttingen, Brown University and Yale University, where he was a Poynter Fellow in Journalism. He has been interviewed about his books and articles on NPR, PBS NewsHour, and the BBC World Service.
Ariel Sabar has been a guest on 1 episode.
September 22nd, 2020 | 44 mins 10 secs

My guest is Ariel Sabar. His newest book is "Veritas: A Harvard Professor, a Con Man and the Gospel of Jesus's Wife." In 2012, Dr. Karen King, a star professor at Harvard Divinity School, announced a blockbuster discovery at a scholarly conference just steps from the Vatican: She had found an ancient fragment of papyrus in which Jesus calls Mary Magdalene "my wife." The tattered manuscript made international headlines. If early Christians believed Jesus was married, it would upend the 2,000-year history of the world's predominant faith, threatening not just the celibate, all-male priesthood but sacred teachings on marriage, sex and women's leadership. Biblical scholars were in an uproar, but King had impeccable credentials as a world-renowned authority on female figures in the lost Christian texts from Egypt known as the Gnostic gospels. "The Gospel of Jesus's Wife"--as she provocatively titled her discovery--was both a crowning career achievement and powerful proof for her arguments that Christianity from its start embraced alternative, and far more inclusive, voices.