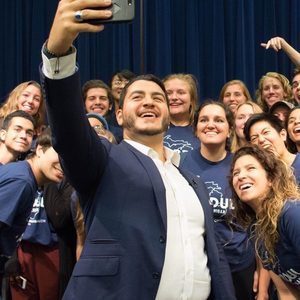 Abdul El-Sayed
Special guest
Dr. Abdul El-Sayed is a physician, epidemiologist, public health expert, and progressive activist. He is the Chair at Southpaw Michigan and a Contributor at CNN. He is the author of "Healing Politics" (Abrams Press, 2020), which diagnoses our country's epidemic of insecurity and the empathy politics we will need to treat it, as well as "Medicare for All: A Citizen's Guide" (Oxford University Press, 2021) with Micah Johnson. He hosts "America Dissected," a podcast by Crooked Media, which goes beyond the headlines to explore what really matters for our health.
In 2018, Abdul ran for Governor of Michigan on an unapologetically progressive platform, advocating for universal healthcare, clean water for all, debt-free and tuition-free higher education, a pathway to 100% renewable energy, and to rebuild the barrier between corporations and government. His bid was endorsed by Senator Bernie Sanders, Congresswoman Alexandria Ocasio-Cortez, the Nation, and Current Affairs. And though he earned over 340,000 votes, he finished second of three in the Democratic Primary.
Prior, he served as Health Commissioner in the City of Detroit, appointed to rebuild the City's health department after it was privatized during municipal bankruptcy. He was the youngest health official in a major US city. Responsible for the health and safety of over 670,000 Detroiters, the Detroit Health Department became a state and national leader in public health innovation and environmental justice, in one of the fastest municipal public health turnarounds in American history. He was awarded "Public Official of the Year" by the Michigan League of Conservation Voters and "40 under 40" by Crain's Detroit Business.
As a professor at Columbia University's Department of Epidemiology, Abdul became an internationally recognized expert in health policy and health inequalities. He was Director of the Columbia University Systems Science Program and Global Research Analytics for Population Health. He has over 100 peer-reviewed publications that have earned over 1200 citations, including a foundational textbook on Systems Science & Population Health (Oxford University Press, 2016).
Abdul holds a doctorate in Public Health from Oxford University, where he was a Rhodes Scholar, as well as a medical degree from Columbia University, where he was a Medical Scientist Training Program Fellow and a Soros New Americans Fellow. He graduated Phi Beta Kappa with Highest Distinction from the University of Michigan, where he was chosen to deliver the student commencement speech alongside President Bill Clinton.
He is a native Michigander who was born and raised in Metro Detroit, where he lives with his wife, Sarah, a mental health doctor, and daughter Emmalee. He enjoys good people, good coffee, good food, sports, and University of Michigan Football. He is a proud member of UAW local 1981 and AFT local 477.
Abdul El-Sayed has been a guest on 1 episode.
September 26th, 2020 | 37 mins 32 secs

My guest is Abdul El-Sayed. His new book is "Healing Politics: A Doctor's Journey into the Heart of Our Political Epidemic." From a rising voice in progressive politics, a combination of memoir, science, and public policy, diagnosing the challenges facing America and laying out a way forward
A child of immigrants, Abdul El-Sayed grew up feeling a responsibility to help others. He threw himself into the study of medicine and excelled—winning a Rhodes Scholarship, earning two advanced degrees, and landing a tenure-track position at Columbia University. At 30, he became the youngest city health official in America, tasked with rebuilding Detroit's health department after years of austerity policies.